Notable Graves
Chesham Bois Burial Ground has a number of notable graves.
The burial records show that the first person to be interred was 76-year-old Bennett Green. He was buried on 10th December 1924 and was a manufacturer of leather goods. Unfortunately, he has no memorial having been laid in a common grave.
The early interments show a preference for the consecrated, left-hand side of the burial ground, with many of the significant figures of the village buried during the first half of the 20th century to be found half way up the hill on this side. The right-hand side of the path is unconsecrated ground. The Burial Ground also has four Commonwealth War Graves from World War II.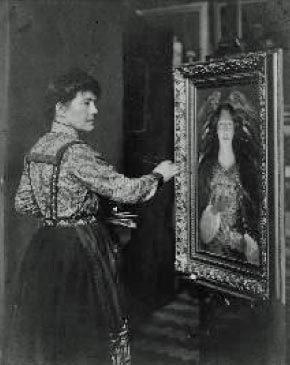 RJW Haines, Louise Jopling at an easel, circa 1902, Private Collection
Image © The Hunterian, University of Glasgow, 2015.
Louise Jopling.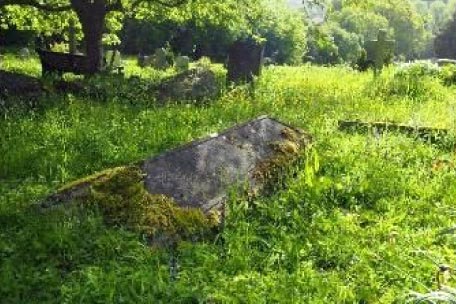 Louise Jopling (1843–1933) was a professional Victorian artist who should be better known. As a society beauty she was painted by Millais and Whistler but was extremely talented in her own right. She mixed with and painted many of the celebrities of her day including Baron Nathan de Rothschild, Lillie Langtry and Ellen Terry. She entertained Oscar Wilde and the Royal family at her open studio sessions which were reported in all the popular magazines and satirised in Punch. She was the first woman member of the British Society of Artists, established an art school for women and actively campaigned for women's suffrage. After moving to Manor Farm on North Road with her third husband, she published her memoires and founded the Chiltern Club of Arts.
A lover of nature, Louise aimed to capture what she called 'the beauty of the outer world … the richness and variety of colour… the life pervading every object'. These aspects are found in Louise's resting place at Chesham Bois Burial Ground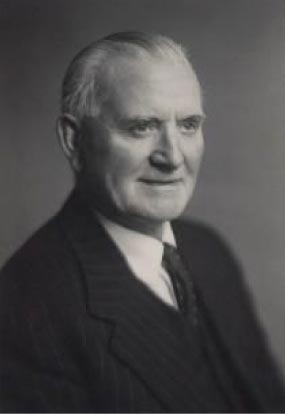 Charles Dukes, Baron Dukeston, photo by Walter Stoneman bromide print 1947.
Charles Dukes, 1st Baron Dukeston of Warrington.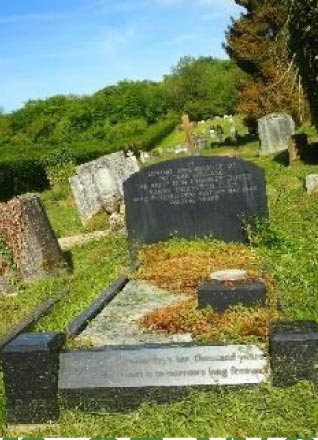 Charles Dukes (1881-1948), born in Stourbridge, became a Trade Union Secretary in 1909. He was sentenced in 1916 as a conscientious objector. He served as Labour MP for Warrington from 1923-4 and 1929-31. He was General Secretary of the GMB from 1934-46 and became President of the TUC from 1945-46. In 1946 he was appointed adviser to the Paris Peace Conference and was involved in drafting the Universal Declaration of Human Rights. He was a director of the Bank of England from 1947-48 and was created 1st Baron Dukeston on 1st April 1947. His house was Highfield on Copperkins Lane.
The Richardsons (Josephine and Car) and Lizzie Buckingham.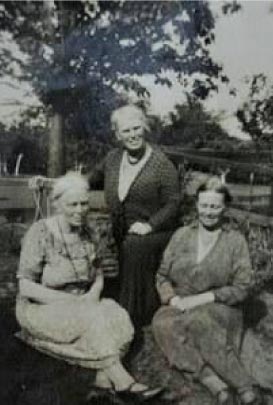 Mona, Josephine (Joey) and Caroline (Car) Richardson in the garden of the Tithe Barn.
Josephine (1869–1945) and Car (1873–1959) Richardson were sisters who moved to the village in the early 1900s. Well-travelled and well educated, Car was a talented artist and teacher and Josephine ran a school in Westminster where she taught the daughters of Winston Churchill and Herbert Asquith. During the wars they both worked as Voluntary Aid Detachment (VADs), with Car nursing at a number of hospitals around the country. Car created many wonderful watercolours of the area and an extraordinary collection of WWI portraits of convalescing soldiers. Both were parish councillors and presidents of the Chiltern Arts Club. Lizzie Buckingham (1880-1961) worked for the family for years and later was Car's companion. She is buried beside the sisters.
The Gomms.
Brothers William James (1896-1952) and Thomas (1900-1966) Gomm were born and brought up in Ivy Cottage (now Meade House), next door to Heatherton House School. Their father William was an enterprising builder who built many of the first houses in the village following the arrival of the railway including a number of substantial villas around the common. After serving in WWI both boys followed their father into the building trade and brought their families up locally. Winifred May Wilkinson (1900-1989) was born in Amersham High Street, the daughter of a bootmaker and married Thomas in 1924, living in Wood Cottage, which had been built by William. Their son Ian (1930-2018) was chairman of the Parish and District Councils and a much-loved member of this community.
Wren Aileen Kilburn.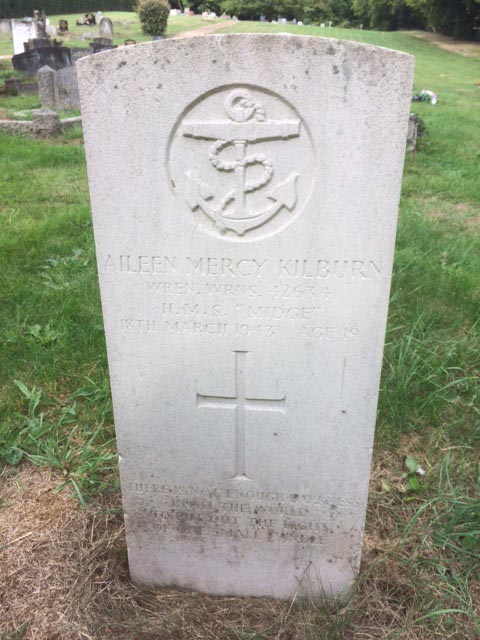 Wren Aileen Kilburn (1924-1943) is the only woman commemorated on Chesham Bois' War Memorial. Aileen was the eldest of five daughters born to Charles and Elsie of Trewithin, Stubbs Wood. To no one's surprise she enlisted in the WRNS as soon as she turned 18. Her father had been a career soldier serving in India and then in France during WWI. Her uncle Percy Robins was killed in France in 1917. Aileen was sent to HMS Midge, a Coastal Forces Base in Great Yarmouth where she probably provided technical support to the boat crews. She was one of 8 wrens killed when a bomb was dropped on their hostel in 1943.
Pilot Officer Roy Ferdinand Frederick.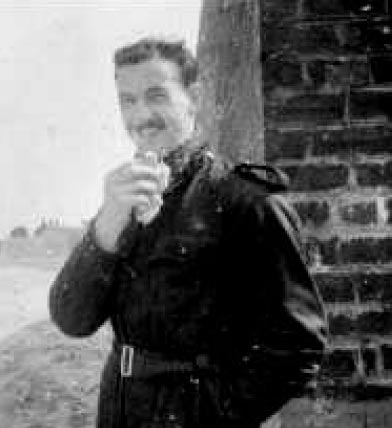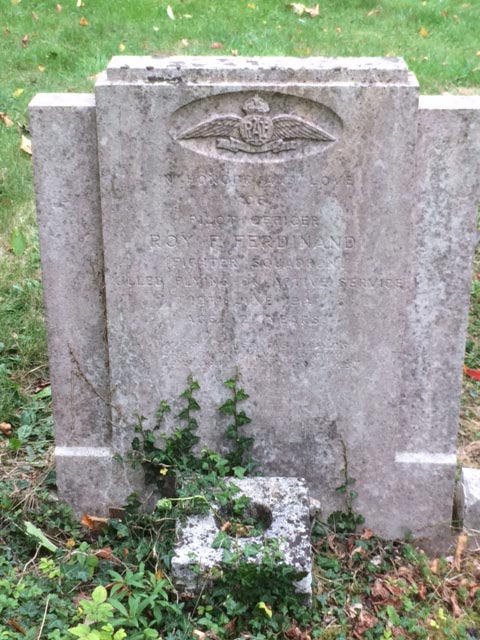 Battle of Britain Pilot Officer Roy Ferdinand Frederick (1920-1941) is commemorated on Chesham Bois' War Memorial. Roy was the only son of Horace and Winifred Helena (Cobley) Frederick of Woodside Avenue Chesham Bois. Roy joined the RAF Volunteer Reserve and was awarded his 'Wings' at No. 6 Flying Training School on 4th April 1940 and joined 263 Squadron as a Pilot Officer on the 23rd June 1940. Based at RAF Grangemouth near Edinburgh the Squadron protected the Firth of Forth during the Battle of Britain, and although they did not take place in any fighting, Roy and his colleagues are officially credited as being part of 'The Few'. Had he lived he would have been entitled to wear the Battle of Britain Clasp on his 1939-45 War Medal. On 12th June 1941 Roy was killed in a flying accident where his Whirlwind plane stalled and crashed on approach to Filton.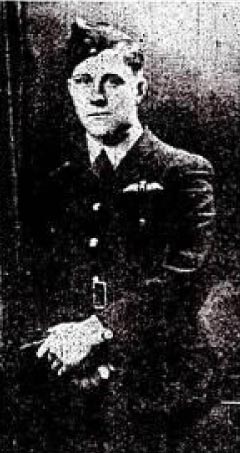 Photo by "Graham", Chesham
PILOT OFFICER JOHN MUSGRAVE.
Pilot Officer John Musgrave.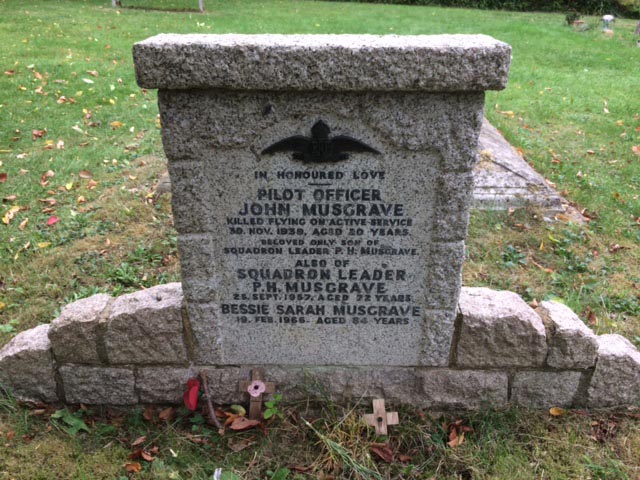 Pilot Officer John Musgrave (1919-1939) is commemorated on Chesham Bois' War Memorial. John was the son of Squardon Leader Phillip Henry and Bessie Sarah (Cobbold) Musgrave of Copperkins Lane. John took up flying while attending the Lancaster Royal Grammar School. John joined the RAF in September 1938. John and his crew were killed on 30th November 1939 when their aircraft encountered bad weather with poor visibility while enroute from Cottesmore to Heston.
Sergeant Eric Albert Victor Spencer.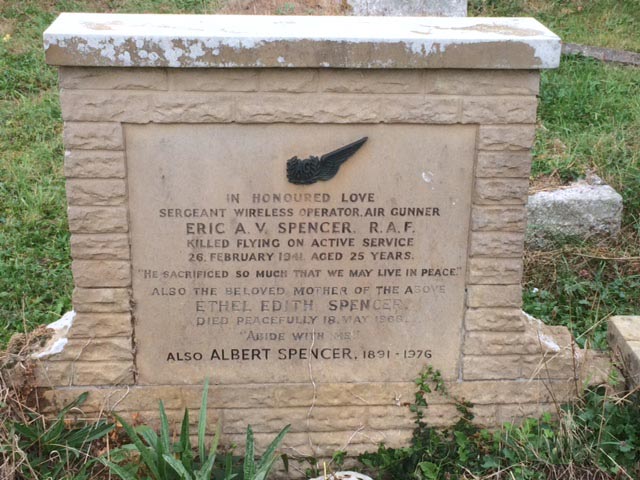 Wireless Operator and Air Gunner Eric Spencer (1915-1941) is commemorated on Chesham Bois War Memorial. Eric was the son of Albert and Ethel (Harper) Spencer of Clifton Road.