Common & Woodland
Chesham Bois Common and woodland are essential to our community. They are a significant area of amenity, as well as contributing to the character of the village and its history. Bylaws for Chesham Bois Common.
Ensuring that these areas remain attractive and safe for everyone's enjoyment requires continual management. The Council consider it vital to conserve the character of Chesham Bois Common; we do not wish it to become a parkland landscape, but we can enhance the woodland in many ways whilst ensuring its long term viability.
Management Plan for Chesham Bois Common and Woodlands:
At the turn of the last century you could see across the Common from North Road to South Road; there were a few trees and some gorse but mainly grass. When grazing stopped saplings could grow and gradually trees self-seeded and the wooded area expanded, particularly with ash, sycamore and cherry until the appearance of the Common evolved into the one we know today. Letting nature take its course brings some difficulties: the woods are too uniform in age and species structure to be resilient with a lot of crowded trees of a similar (old) age. There is insufficient space or light for new growth in many areas.
The Forestry Commission recommends that sustainable management of woodlands is crucial to their long term future and that their social and environmental value can be improved gradually. The Parish Council share this view and want to ensure that our unique Common and woods are not only still here for future generations but are also better and healthier. With that in mind worked with experts from the Chilterns Woodland Project, a charity with the Chilterns Conservation Board, to devise a Management Plan for the next 10 years and beyond. This plan was approved by the Forestry Commission in February 2019. Click on thefollowing links for additional information. Operations Map. Restocking Map. Trees to be Felled. Restocking Conditions.
Eastern Section of Common: The Year 2 tree work will be completed by the end of the first week in January 2021. This section of the Common has shown a worrying level of ash dieback and the majority of trees felled were diseased; including three large ash trees behind the war memorial (see photo below). Council may plant a few new trees in key areas but natural regeneration will gradually bring young healthy trees back.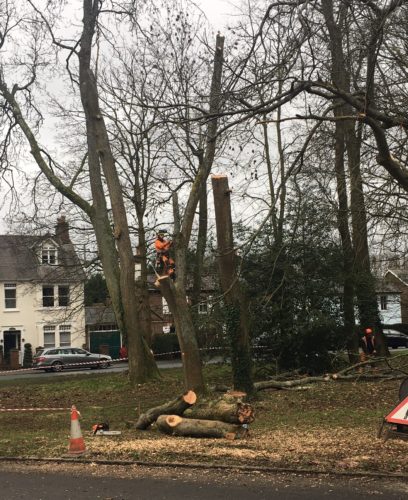 Tenterden Spinney: 140 new trees were planted in November 2020 to promote native species and improve biodiversity as part of our Woodland Management plan.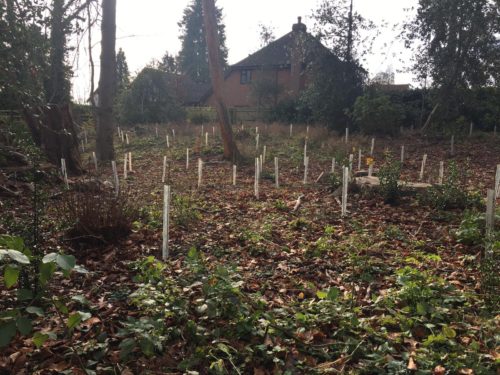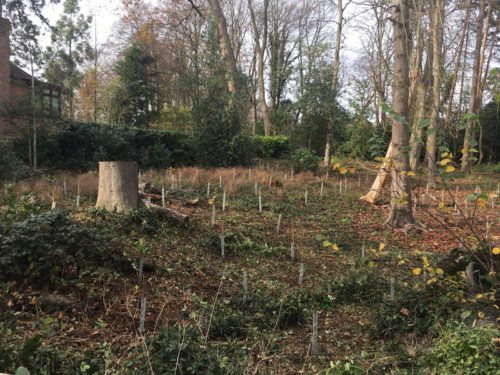 Bois Wood: During November 2020 the first stage of replanting in Bois Wood is almost complete, with further trees to be added following additional ground clearance. The saplings represent a number of native Chiltern species, including oak, maple, grey willow, birch and rowan, which should offer a more resilient mix for future health and to promote biodiversity.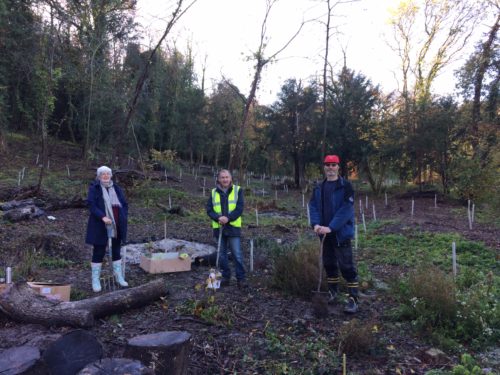 Recent Improvements to Common and Woodlands
Bricky Pond: weed clearance; thinning marginal plants; banks repaired; stop grass encroaching


Tenterden Spinney: new fence at Bois Lane end, holly and laurel clearance with The Chiltern Society.

The Common: Remedial work carried out following tree safety survey, laurel clearance with The Chiltern Society and holly clearance.