Arranging a Funeral
Choose a burial as individual and unique as your loved one.
We are flexible in the types of burial we can offer. You can choose either a formal or natural woodland burial to provide what is right for you and your loved one. We can offer a unique plot to inter a loved one's ashes as well as providing for full burials.
There are very few rules about the funeral itself. It may be religious or secular, and any idea will be considered to personalise your loved one's burial. Music can be played, readings or poetry can be read, toasts made and personal tributes may be spoken. A combination of traditional and more modern elements within a funeral may be more relevant when someone has a diverse group of family and friends.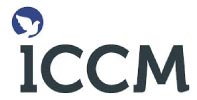 Chesham Bois Paris Council is a member of the Institute of Cemetery and Crematorium Management (ICCM) and operates within the guiding principles for cemeteries.

As a member of the Association of Natural Burial Grounds (ANBG) we hold independent accreditation for this nationally recognised charity for our Woodland Burial Ground as an upholder of the best practice in natural burial provision through compliance with the ANBG Code of Conduct.
Chapel.
Our chapel provides a welcome place for friends and family to gather for a memorial service of any denomination or none. It has a calm and peaceful ambience, a wooden lectern and seating for up to 50 people. An individual eco toilet block is available in an adjacent screened area.