News and Events
November 12, 2019
The next village fete will take place on Saturday 13th June 2020. If you are interested in taking a stall please email the Parish Council office on clerk@cheshamboispc.org.uk or phone 01494 432585 [More…]
October 24, 2019
The new Buckinghamshire Council will replace Aylesbury Vale District Council, Buckinghamshire County Council, Chiltern District Council, South Bucks District Council and Wycombe District Council) on 1 April 2020.  It will be responsible for providing all services for the residents of Buckinghamshire.    This includes waste and recycling collections, roads and transport, education and learning, health […] [More…]
September 30, 2019
Chesham Bois Burial Ground has scooped a prize at the National Cemetery of the Year Awards. The Memorial Awareness Board (MAB) has been promoting and organising the Cemetery of the Year Awards for nearly 20 years. Chesham Bois Burial Ground won the 2019 Silver prize in the Parish, Town and Community Council Cemetery category of […] [More…]
Diary Dates
Planning Committee Meeting
7.30pm
Council Office, Glebe Way, Chesham Bois HP6 5ND
Christmas Lights & Carols
4.00pm
War Memorial, North Road, Chesham Bois HP6 5ND
Planning Committee Meeting
7.30pm
Council Office, Glebe Way, Chesham Bois HP6 5ND
Parish Council Meeting
8.00pm
Council Office, Glebe Way, Chesham Bois HP6 5ND
Christmas Lights & Carols Friday 6th December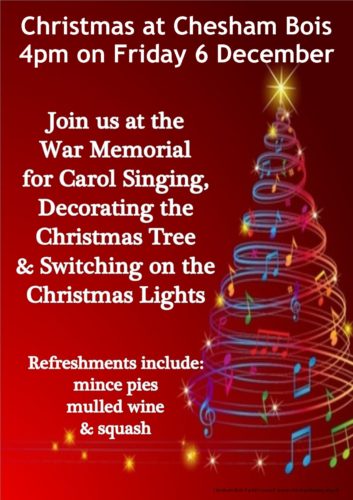 Have your say on the future Buckinghamshire Council
The new Buckinghamshire Council will replace Aylesbury Vale District Council, Buckinghamshire County Council, Chiltern District Council, South Bucks District Council and Wycombe District Council) on 1 April 2020.  It will be responsible for providing all services for the residents of Buckinghamshire.   
Residents, local organisations and businesses are being asked their views on what the new council should focus on and the proposed budget for 2020. The consultation will run until 25 November 2019.  The Survey which takes 10 minutes to complete is available at  https://shadow.buckinghamshire.gov.uk/consultations/budget2020/
Parish Centre Redevelopment UPDATE
St Leonard's Church, who are responsible for the planned redevelopment of the Parish Centre, have updated their website with new information.  For further information on the project please visit stleonardscb.org.uk/parishcentreredevelopment.   
If you have comments, please email the church project team on pcredevelopment@stleonardscb.org.uk
We would encourage all residents to engage with this consultation process .
Chesham Bois Parish Council is also interested in the views of all residents please email us on clerk@cheshamboispc.org.uk.