Burial Grounds
A truly unique setting and special place of tranquillity.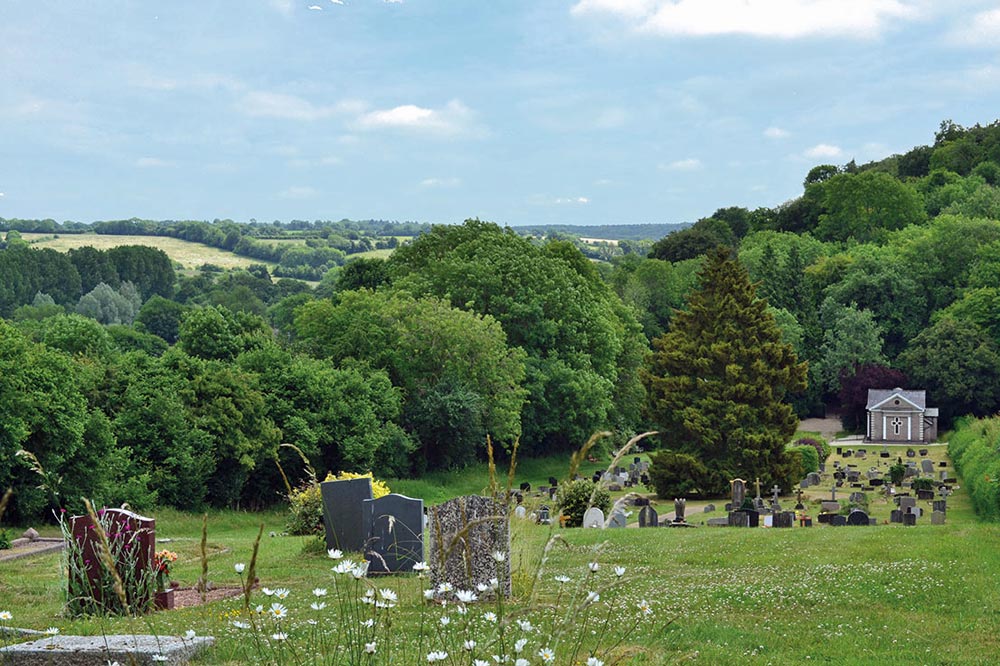 Chesham Bois Burial Ground is located next to Bois Wood, within the Chilterns Area of Outstanding Natural Beauty.
Our hidden, tranquil setting has stunning, far-reaching views that you will want to revisit. It's a 'hidden beauty' and it may be the area's 'best kept secret'. With its outstanding beauty and views, Chesham Bois Burial Ground is an ideal place to visit, reflect and remember a loved one.
The meadow and woodland at Chesham Bois have evolved naturally and create an authentic, informal setting. This is complemented by the diverse flora and fauna found in the surrounding woods and rare chalk grassland. It's a place where families and friends can visit and remember, with a relaxed atmosphere different from more formal settings.
Alphabetical list of persons buried in the burial ground updated July 2023. This list was last updated in July 2023 and is updated regularly.  Please contact the Clerk if you have any questions about the list or the location of a particular plot.
Our Values.
Providing a tranquil and unique burial ground within the Chilterns Area of Outstanding Natural Beauty.
Offering beautiful woodland and views as a lasting memorial to your loved one that all can visit.
Giving a flexible and personal service to recognise how special your loved one was.
A wide range of options to respect all end-of-life choices; formal burials, interment of ashes and natural burials.
Our ethos, service and size allow us to focus on the individual.
Investing back into the Burial Ground to ensure that the upkeep, appearance and environmental diversity is maintained.
Acclaimed Personal Service.
We are proud of the consistently positive feedback we receive for our friendly and welcoming staff. They provide great advice and support and are known to be efficient and pleasant to deal with. Families tell us they like the personal, local and friendly feel of Chesham Bois Burial Ground.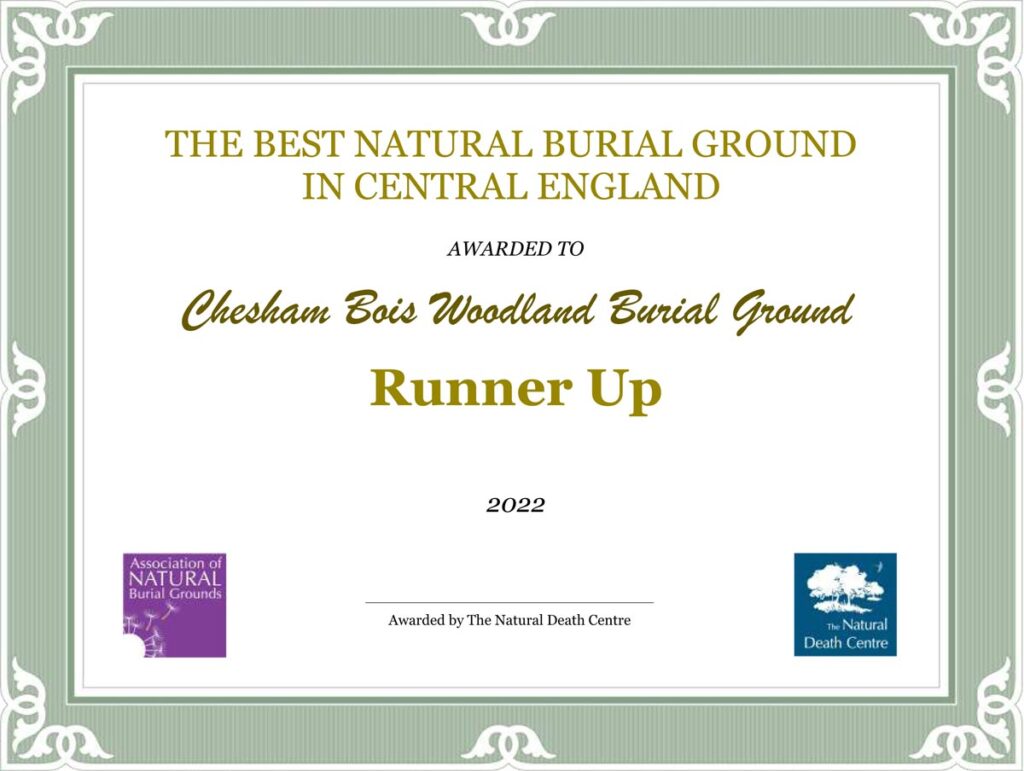 As the Burial Ground is owned and managed by Chesham Bois Parish Council it means that all monies are reinvested back into the parish for the benefit of its parishioners and its visitors. We are motivated by the desire to deliver what's right for you and this, coupled with the variety of choice that we offer, makes us distinct from commercial companies.
Quote from the Sexton, Chesham Bois Burial Ground: "Other burial sites often deliver a standardised service, as this can be more efficient for them. Our service is not driven by these considerations and so it is one that is very personal and right for you and your loved one."
Quote from Mrs R, Chesham (June 2022): "Chapel was small an intimate – just perfect for our family but no wheelchair access". Please note that this has now been addressed and a wheelchair ramp is now available for access to the Chapel – Chesham Bois Parish Council
Quote from Mr B, Chesham (April 2022): "Would recommend to others. Lovely funeral arranged according to the wishes of my late wife"
Quote from Mrs T, Chesham (December 2021): "Excellent level of customer care. It seemed very right to lay my husband's ashes in such beautiful surroundings".
Quote from Mrs N, Chesham (November 2021): "My husband had always wanted a 'green' burial – Chesham Bois was ideal. The whole experience was very positive"
Quote from Mrs D, St Albans (August 2021): "The biodiversity and sustainability of the grounds were explained to us in depth by Sam. She was very knowledgeable and helpful."
Quote from Mrs R, Aylesbury (December 2020): "We decided on this burial ground as it was among the trees and had views of the Chiltern Hills where our family member walked".
Quote from Mrs J, Hemel Hempstead (September 2020): "Peaceful place with lovely views and easy to access by cycling, walking or bus."
Quote from Mrs W, Watford (September 2020): "Beautiful setting".
Quote from Mrs. J, Tring (May 2020): "Very positive overall experience. Sam and Katie were very helpful and I would have no hesitation in recommending their services. 10/10."
Quote from Mr. G, Tring (May 2020): "Good customer care."
Quote from Ms. S, West Wycombe (February 2020): "Excellent customer care, very personal, relaxed and sympathetic. Beautiful setting. Chapel was lovely and heating amazing, warm even in winter. Able to drive almost to the graveside for disabled people."
Quote from Mr. C, Hemel Hempstead (November 2019): "A special thanks to Katie and to the gravedigger, Keith. They are both empathetic, kind and professional."
Quote from Mrs. F, Chesham (August 2019): "This is a very beautiful place."
Quote from Mrs. H, Rickmansworth (June 2019): "I would like to say thank you to the Sexton for helping us create a lovely funeral for our Mum. The woodland burial ground is beautiful and the chapel too is simply perfect. We were able to create a funeral service ourselves which was totally individual….It is a great comfort to think of Mum laid to rest in such a wonderful spot. "
Quote from Mrs. B, Chesham Bois (May 2019): "Thank you for all your help. It was all made so easy, … Everyone thought that the site was inspirational."
Quote from Mr. W, Amersham (March 2019): "A wonderful peaceful location, and just what our Mother wanted."
Quote from Mrs. T, High Wycombe (February 2019): "Lovely atmosphere, well cared for."
Quote from Mr & Mrs M, Chesham (October 2018): "It has a natural slope which affords pleasant views across the area to the woodland beyond. During the day you can hear birds singing and late in the evening hear the owls and see bats hunting for prey. It generally has a peaceful air."