"Chesham Bois Parish Council is delighted to announce that a licence has been issued to Heatherton House School for the use of Common Land for its Forest School activity. The children will benefit from organised, outdoor learning and we trust that they will enjoy exploring and discovering the biodiversity in the woodland through the changing seasons," says Councillor Aleksandra King.
Chesham Bois Parish Council has registered a ten-year Woodland Management Plan with the Forestry Commission of England and is keen to improve the public amenity of the Common and other woodlands for which it is responsible. The Plan also aims to enable Forest Schools to use public areas for educational purposes, for which a licence is required.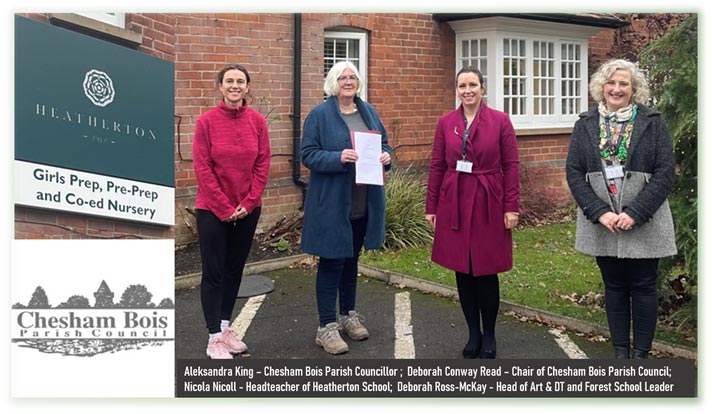 When the licence was signed, Nicola Nicoll (Headteacher of Heatherton School) and Chris Grimsdale (Estate Development Director) from the Berkhamsted Schools Group said:
"We are delighted to have worked closely with Chesham Bois Parish Council to establish the opportunity for Heatherton School to have access to our local woodland. Through a collaborative process, the Parish Council has granted its first licence to Heatherton allowing for outdoor lessons and Forest School activities on Common land owned by the Council. The agreement of this licence is an example of the Parish Council and Heatherton's commitment and desire to educate and connect the next generation to essential Green issues. We wish to share with our pupils the ever-growing importance of the protection and understanding of the environment, ecology and benefits of natural beauty to all aspects of our lives and, most importantly, for them to develop a life-long love of planet Earth.
Berkhamsted Schools Group, of which Heatherton is part, look forward to continuing to work with the Parish Council to help maintain the woods as part of the license agreement in order to ensure that the ecology and habitats of the woodlands are protected for future generations to be able to enjoy the benefits of this area of natural beauty. "